RSFD SEPTEMBER 10 MEETING/FUNDRAISER
Kamala Harris
California's Attorney General
Candidate for the US Senate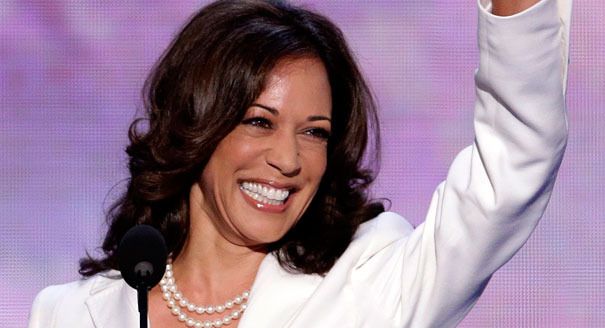 Come meet Kamala Harris, the leading Democratic candidate to replace Barbara Boxer in the US Senate, at our September 10 meeting plus fundraiser in a private home in Fairbanks Ranch.
Kamala Harris was born in Oakland in 1964.  She graduated from Howard University and earned her law degree at University of California, Hastings College of the Law in 1989.  She was District Attorney of San Francisco from 2004 to 2011.  She was elected Attorney General of California in 2010 and re-elected in 2014.
Her mother was from India, her father from Jamaica.  She is the first female, the first Asian American, and the first black person to serve as California's Attorney General.  
Kamala Harris is the author of the 2009 book, Smart on Crime: A Career Prosecutor's Plan to Make Us Safer.  She is a vocal proponent of gun control.  She is opposed to the death penalty.  She has been mentioned as a possible nominee to the U.S. Supreme Court should a seat become vacant during Barack Obama's second term.
Don't miss this chance to hear California's next US Senator.
Always lots of Q&A.
Everyone welcome.
WHEN: Thursday, September 10th at 6:00 pm
 
WHERE: Address provided with RSVP
COST:
Democratic Club Member: $150 per person (For Members in Good Standing of San Diego Democratic Clubs)-Join or Renew here for the RSF Democratic Club
 
Sponsor: $2,700 per person includes:
l  VIP reception prior to the general reception
l  Photo with AG Harris.
l  Your name listed on the invitation
l  Recognition during the remarks.

Co-Host:  $1,000 per person includes:
l  Includes all the above with the exception of the photo.
 
Guest: $500
RSVP: Kamala Harris US Senate 2016 (link is external) or 858-759-2620
Rancho Santa Fe Democratic Club Contact is Maria McEneany@[email protected] or 858-759-2620
Date: 
Thursday, September 10, 2015 -
WHEN
September 10, 2015 at 6:00pm - 8pm
WHERE
Fairbanks Ranch (Address provided with RSVP)

CONTACT
Adia Smith · · 858 759-2620